Not Man-Cat Monday, just a quick general update
I'm thinking the monday/friday thing may be a bit sporadic and interspersed with general goings on at the shelter. Trying (not very succesfully) to focus on two cats a week does leave a lot out.
So, tonight I'd like to introduce you to three lovely cats who have come to the shelter in the last week or so.
First, the lovely 4 year old Coco
Coco's people are moving and are unable to take her with them, so this cuddly little girl has come to us to find a new home. She'd definitely not fond of other cats, but would do just great with adults and children of all sizes and ages.
Next up is 12 year old Posh
Posh couldn't cope when the newish addition to her home climbed to it's feet and entered the toddler stage. She's a beautifully affectionate girl who just needs lots of love and no small children to make her a very, very happy cat.
And last, but certainly not least, the fabulous 4 year old Hoki (link to come).
Hoki's person embarked on a new relationship with a person who just didn't like cats, so sadly Hoki has come into the shelter to find a new home free of that particular afflication. He's a beautiful lad - laid back and loving. Absolutely fine with small children, tho probably should be an only cat.
Blackie got adopted on Saturday and Tiger Lily yesterday.
Molly and Cookie, a couple of gorgeous 7 year old tabby sisters, weren't with us a full week before being snapped up yesterday and heading off to their new home together.
Finally, a quick update on our Henry. Now renamed "Henry the Brave". These taken yesterday in the main shelter room, which was chock full of visitors at the time! Henry the Brave indeed!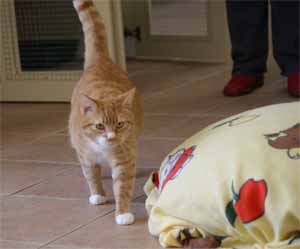 Posted by Kris at
10:22 AM
|
Comments (0)